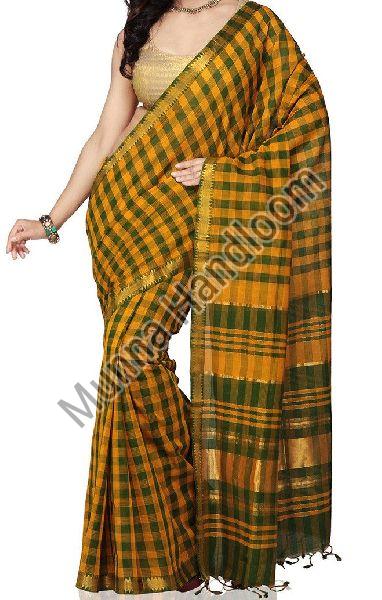 The Indian sarees are wrapped behind garments in history and culture. Every state has six or nine yards attire style. A saree describes the history of cultures and many times related to the respective native region. The same goes with West Bengal as there exist many varieties of traditional sarees.
In the celebration, there are a few casual, formal, and traditional wear for Bengali women. Check all the details throughout this article.
Tant Saree:
Almost every woman in West Bengal keeps Tant Saree in her collection due to the indispensable stapling of the bengal old days. It is made with cotton and people like it due to its lightweight. Here you will find different Tant sarees as per the language, culture, and region.
Garad Sarees:
It comes with different colurs like red white checks and others. It is termed as a 'Lal-Par' saree due to its unique white and red combo.
These are made in Murshidabad and preferred in Durga Puja. Nowadays, you will find different subsets of this saree.
Korial Saree:
It is the modern version of Garad sarees. You can recognize it by the ornament borders and attractive motifs in pallu. It is worn on religious occasions. You will find the versions when you visit West Bengal in any puja event.
Silk Sarees:
It is made with solid and lovely patterns. It has a shiny appearance which makes it special for big days. The patterns are hand-crafted by the artists.
Baluchari Sarees:
It cherishes every woman by its prized possession. It is an excellent alternative to Banarasi Sarees made in UP.
It was named after the village called Baluchor during the reign of Nawab Murshid Kuli Khan. Most of these sarees show Hindu scripts like Mahabharata and Ramayana. Now its production is available in Bishnupur.
Kantha Saree:
It includes delicate thread touch in the fabric. Typical running stitches make it suitable to add as an embroidery cloth.
Some old materials are recycled and reproduced as Kantha Saree. Later, many modifications are already seen in Kantha Magic.
Tasar Saree:
It is the pride of Malda as it holds a special feel of paisely and floral motifs. It consists of a crispy texture to enhance the outlook of any woman.
These types of sarees come in different colours.
After the arrival of hot summer, Check Cotton Sarees are the refresher. These are available for superior look and quality. There is no wonder of being the first choice for any woman for its comfortable and classy feel. Bengal kinds of cotton have passed a long way after surpassing top giants in the world.
There is a huge global following of cotton sarees for their delicate fabric, excellent weaving techniques, etc. There is heavy production of Check Cotton Saree West Bengal as proper infrastructure lies in the regions of Bengal.
You may look for more features that make it look finer and smoother. Tant and Baluchari sarees have gained more fame in design. Baluchari sarees are shown in Indian Mythology and we can guess their importance as well.