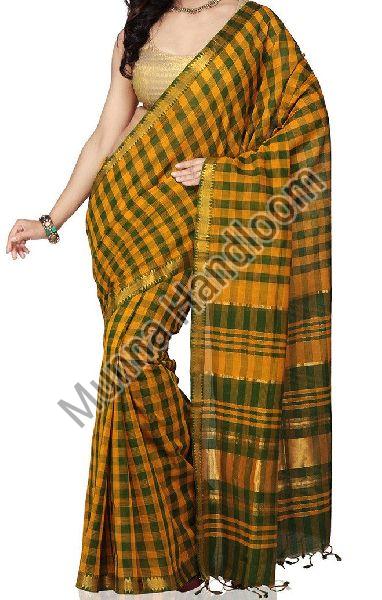 Linen and cotton saree are one of the most amazing and comfortable daily-use saree made from natural fibre. The fibre of the linen fabric comes from the flax plant, one of the most admired fabrics in the world, because of its comforting effect.
The linen fabric is light, dairy, and comfortable. Linen saree is made from the flax plant's fibers that are unique.
The Specialty of Linen Saree
Linen saree are famous for their light and soft fabric. It is a breezy fabric that is suitable to use during hot summer. It is a perfect fabric for the summer season because it has a unique sweat-absorbent capacity. Due to its skin-friendly nature, people prefer to wear this fabric during summer.
It is one of the most superior quality fabrics to other types of fabric. One looks perfectly elegant in this beautiful saree. This gorgeous and extraordinary fabric has a unique sweat-absorbent capacity that keeps you cool in the scorching heat.
Due to its sturdy nature, this fabric can last longer. Unlike cotton, linen is a little bit thicker, and it is a durable fabric and stronger than cotton fabric.
Different types of Linen Saree
Linden saree can be different types, such as follows-
• Cotton linen saree is a unique blend of cotton and linen that gives this saree a strong texture. Due to its unique combination, this saree can be a unique summer outfit.
• Silk linen saree- This linen saree is the unique combination of silk with linen that gives this fabric a lustrous appearance. This saree has a rich appeal and is perfect for special events.
• Linen saree with border- A beautiful linen saree looks elegant with a border.
• Linen saree with zari work- Zari work can give a unique appearance to the linen saree. It gives a grand appeal that makes it easy to carry in different occasions.
Unique Style for Cotton Linen Saree
If you want to make a unique style statement with your office wear, you can try a comfortable linen cotton saree with a zari border. You can wear the linen cotton saree with a full sleeve kalamkari blouse. Buy a soft pastel linen saree in the summertime for your comfort. Try to dry wash the linen saree at home without harsh chemicals or detergent. It is helpful for linen fabric.
How to Choose Linen Saree
When you decide to choose the best cotton linen saree supplier, you should consider these factors-
1. The percentage of linen in the fabric is a vital thing that you should consider. Manufacturers use cotton, khadi, silk, and wool with linen to make it durable.
2. Best quality linens are soft, breathable, and comfortable. An original line can absorb moisture and gets dry easily.
3. If the manufacturers use an authentic spinning process, they can produce good-quality linen fabric. Wet spinning achieves the finest yarn.
You should consider these unique things while buying linen from any authentic saree manufacturer or supplier. You can visit several online stores for this purpose.